Someday by Allison McGhee
Classroomtalk Book Reviews
There are so many great children's books out there to be discovered that I'd like to invite my readers to share your favorite children's books on this page.  If you'd like to submit a review to share with other Classroomtalk readers, append your submission in a Word or Word Perfect format as an attachment to your e-mail to Classroomtalk.  Type "Book Review" in your e-mail subject line.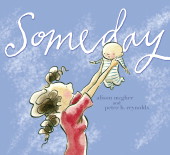 by: Allison McGhee.  Illustrated by: Peter H. Reynolds
I hadn't heard of this book when I stumbled upon it in the book store.  When I picked it up and began to read, I had no idea that by the time I finished I'd have tears running down my face and be reaching for a tissue while other book lovers shot me odd glances for blubbering in the kidlit section.  Someday is a sentimental story of a mother's memories of love for her daughter.  Much like the book I Love You Forever by Robert Munsch, it's a book that many adult readers will have difficulty reading aloud without tearing up.  It's simple text and thoughtful illustrations captivate young listeners while evoking feelings in adult readers of melancholy and loss, but also of hope and joy.
This book makes a beautiful gift from mother to daughter and is a perfect gift for baby showers.  I'd highly recommend it for children ages 3-8 and for parents of all ages.
---