Touch Blue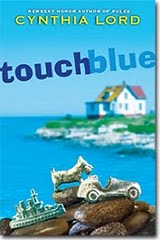 Author: Cynthia Lord Book review written by StorySnoops.com
Touch Blue is a story about an eleven-year old girl named Tess who lives with her family on a tiny island off the coast of Maine. When's Tess's best friend moves away, her school no longer has enough students to stay open, and the government threatens to shut it down. To solve this problem, her community comes up with a plan. They increase the number of students on the island by having a few families take in foster children — Tess's family included. Tess is thrilled that she is going to have a new thirteen-year-old brother, and can hardly wait to meet Aaron. But when Aaron arrives, it is not as easy as she had imagined. He never wants to play with Tess and has a giant attitude problem. The only thing he cares about is his music – and secretly getting back in touch with his "real" mom. Will Aaron ever come to accept Tess, her family, and small town island life as much as Tess wants him to? Or will he leave the island to find his real mom?
Written by an award-winning author, Touch Blue is a short book with a lot of depth, without being boring or hard to read. Tess is a superstitious girl and each chapter opens with a different superstition (Chapter One – "Touch Blue and your wish will come true"). This book is beautifully written and descriptive, with messages about the meaning of family, and the importance of kindness and community. It's a great choice for a classroom read aloud or a middle grade book report.
To purchase Touch Blue from Amazon, click here.
Happy reading!
-The StorySnoops
For more reviews and recommendations by StorySnoops, visit the StorySnoops website at http://www.storysnoops.com
---