I Must Have Bobo by Eileen Rosenthal, illustrated by Marc Rosenthal
I Must Have Bobo!
Review by Jessica of Vegbooks.org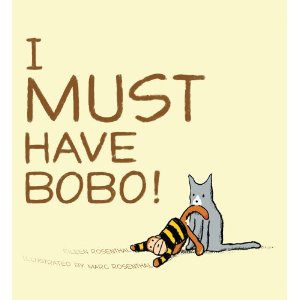 Poor Willy! He loves his stuffed monkey Bobo. But so does Earl, his mischievous cat. The simple and silly plot of I Must Have Bobo revolves around Earl sneaking off with Bobo and Willy retrieving him. Just when you think they've resolved the problem – all cuddled together in a pile on an armchair – the last page features Earl slinking off with Bobo yet again.
Children who live with cats or dogs may recognize something of their companions in Earl. While not all kitties are nearly so sneaky (or persistent!), they're all individuals who have their own likes and dislikes. And it's really not Earl's fault that he loves Bobo. After all, he's a pretty great stuffed monkey, or else why would Willy love him so?
Teachers and parents will appreciate the sparse and well chosen text, as well as the elegant line drawings, which are reminiscent of classics like Harold and the Purple Crayon.
Great for reading aloud, or to spark the interest of an early reader, I Must Have Bobo makes a funny addition to story time.
To get your copy of I Must Have Bobo from Amazon.com, Click Here
---