Book Review: Heist Society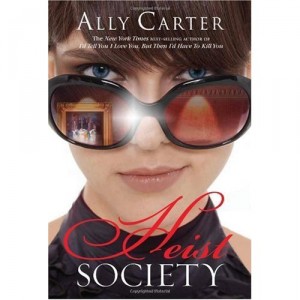 Heist Society Author: Ally Carter
The StorySnoops are back with another fantastic book recommendation. If you are familiar with The Gallagher Girls series, this is by the same author.
Here is the story:
For as long as she can remember, fifteen-year-old Katarina Bishop's family has been in the art business – the business of stealing art, that is! But when Kat decides to do her own thing and go to boarding school instead, she finds that trying to live a normal life isn't as easy as she thought it would be. Priceless paintings are stolen from a rich European crime boss, and he's certain that Kat's dad is the master thief who did it. Unless the artwork is returned, Kat's dad's life is in danger. The only way that she can save her dad is to return the paintings herself. But doing that would require her to pull off the most spectacular heist (theft) in her family's history…
Here is the scoop:
Heist Society is a fun "caper" read (have you ever seen the movies Ocean's 11, or The Thomas Crowne Affair?), by the author of the Gallagher Girls series. You may be wondering why the main character is an art thief (isn't that illegal?!), but you'll feel better about it when it is revealed that the paintings in question were actually stolen from Jewish families by the Nazis at the beginning of WWII. So, really, Kat is helping to return them to their original owners. The story is full of smart teens, who are all part of the same loose "family" that is presided over by the fatherly Uncle Eddie, who is a super famous, but semi-retired, art thief. Kat has tried to leave the group to live the straight life, but finds that in a crisis, her family comes through for her. You might really enjoy the mini lessons on the art world, and the view from behind the scenes on the planning of the big theft. If you like smart action stories, you'll love this one!
Happy Reading!
To pick up your copy of Hesit Society today, Click Here
---