Book Review: Liar, Liar by Gary Paulsen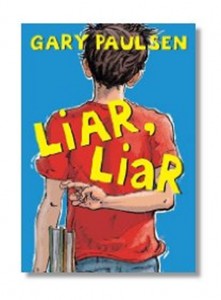 Author: Gary Paulsen
Book review written by StorySnoops.com
The StorySnoops are back with another fantastic book recommendation.
Here is the story:
Older tween and younger teen boys will enjoy this speed read about main character Kevin, who says that he is the best liar you will ever meet. He tells some whoppers, some little white lies, and everything in between for a variety of reasons and gets himself in some pretty deep trouble. He stops at nothing in his quest to prove to the lovely Tina that he is the boy for her, wreaking havoc along the way. He gets himself in trouble with his family, his best friend, and the authorities at school, and along the way he learns that the truth may not be such a bad thing after all.
Here is the scoop:
This central theme of this story is about telling the truth, and one boy's journey through a whole lot of complicated lies to a place of truth. This is an entertaining and funny read, and the characters are relatable characters and the plot engaging. Each chapter's title begins with "A good lie…" In the earlier chapters, the titles are funny and lighthearted and they evolve as the character does to show lessons learned. In the end, the main character Kevin has come a long way in the last few chapter titles: "A good lie can turn on you," "A good lie requires a great apology," and my personal favorite, "A good lie is an oxymoron." Little gems of wisdom make this story very much a gem.
To check out Liar Liar on Amazon, Click Here.
Happy Reading!

---