Hand Print Potholder: An Easy Parent Gift
I love to make this easy potholder for parents at Christmas or Mother's Day. I usually attach  this poem. All you need is fabric paint, a tiny hand and a plain potholder. It takes me about a half an hour to do 24 hands!
Poem
Sometimes you get discouraged
Because I am so small
And always leave my fingerprints
On furniture and walls.
But everyday I'm growing
I'll be grown up someday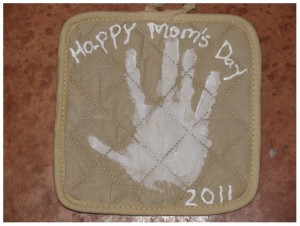 And all those tiny fingerprints
Will surely fade away.
So here's a final fingerprint
Just so you can recall
Exactly how my fingers looked
When I was very small.
Author unknown
Thank you to all that have LIKED I Can't Said the Ant. Please click
on http://bitly.com/CantAnt to vote for it.
---